Food photography books (and books in general) are one of the best, most affordable ways to uplevel your skills and knowledge. I'm sharing a collection of my top favorite books with an explanation about what makes each one special. Yes, there are food photography-specific books on the list (including the one I wrote!) but also books from across other industries and genres. Some of my best ideas are inspired by people and resources outside our food photography bubble.
"You will be the same person in five years as you are today except for the people you meet and the books you read."

Charlie Jones
This is a living blog post, which means I will regularly return to it and make updates and additions as I come across new favorites. Stay tuned!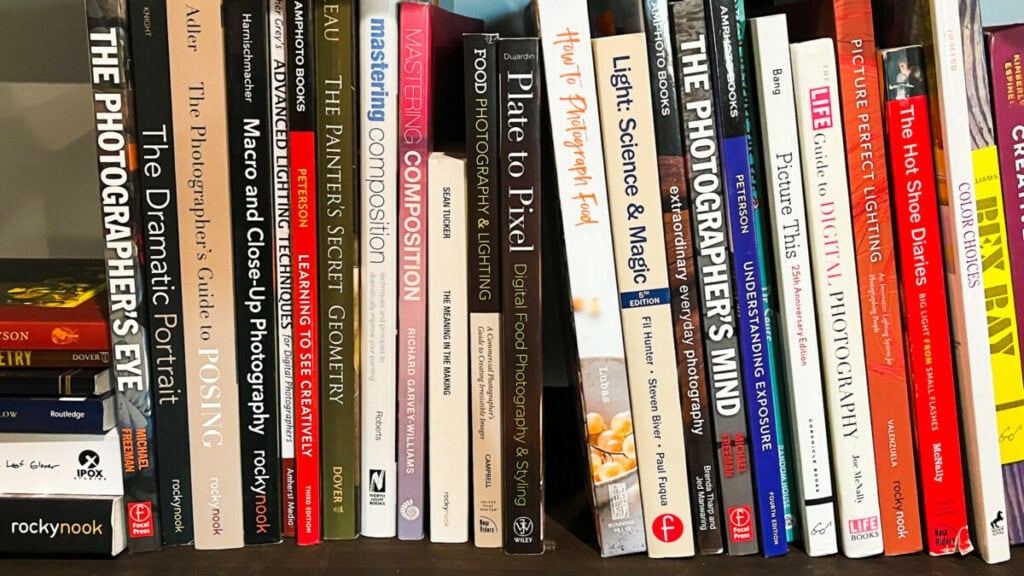 Lighting
Light Science & Magic: An Introduction to Photographic Lighting
A nerdy, non-glamorous, textbook about lighting. This book unlocked so much understanding for me about the physics and principles of light.
The best resource I know for decoding lighting jargon. I also appreaciate the author's sense of humor. It's a book that's serious about photography without taking itself seriously.
The Dramatic Portrait: The Art of Crafting Light and Shadow
All of the lighting is relevant to portraits, which can be helpful for capturing chefs and food-related people. But, I also found that I looked at lighting for food differently when I learned more about portrait lighting.
Joe McNally is the ultimate expert in speedlights. This helpful book is a collection of unique behind the scenes shots and how Joe uses speedlights to create his signature magic.
Chroma: A Photographer's Guide to Lighting with Color
If you've ever wanted to get creative with color in your lighting, this book inspired me to purchase my first set of colorful gels after I read it.
Photography General
All of the books in this section are comprehensive and cover everything from the basics to advanced topics.
This is the most comprehensive textbook on photography, going into depth on all of the key concepts for mastery.
Complete Guide to Digital Photography
Langford's Basic Photography: The Guide for Serious Photographers
Color Theory
Though this book was written for designers, the concepts translate directly to photography. They also delve into the science of color which helped me better understand light within the context of color.
If It's Purple Someone's Gonna Die
You'll never see a movie the same again after reading this book. It explores color theory and color use in film and how color conveys emotion.
Food Photography Books
Picture Perfect Food: Master the Art of Food Photography with 52 Bite-Sized Tutorials
I wrote a book! Obviously I'm biased and think you'll love my book that gives you one challenge a week through the whole year.
Food Photography & Lighting: A Commercial Photographer's Guide to Creating Irresistible Images 1st Edition
This one's out of print, so you'll have to rely on used copies or Kindle (admittedly the Kindle version isn't great for the diagrams). This is also not a beginner book. You need a solid command of operating a camera in manual mode and some basics related to flash-based lighting. But, if you're ready for something meaty, there are some awesome examples of ways to get outside of your lighting comfort zone.
Feast for the Eyes: The Story of Food in Photography
This book appeals to the art historian in me. It chronicles the history of food photography from its inception to modern day, giving a helpful perspective on imagery in the greater context beyond the digital world we currently inhabit.
How to Photograph Food: Compose, Shoot and Edit Appetizing Images
Bea's food photography is pure magic and she shares all about her process in this easy to follow and hard to resist book.
Creative Food Photography: How to capture exceptional images of food
As implied in the title, I love how this book focuses on the creative side of food photography and gives insight into cultivating your own unique style and storytelling.
That Photo Makes Me Hungry: Photographing Food for Fun & Profit
Andrew is an acclaimed food photographer and outstanding mentor both in terms of the artistry of food photography, but also in how to build a business. This book delivers on the promise of making you hungry.
Plate to Pixel: Digital Food Photography & Styling
Helen has been teaching food photography since before teaching food photography was popular. Her easy to follow guide is a helpful balance of technical and conceptual, teaching the important foundations of photography along with food-specific behind-the-scenes and creative techniques.
Styling
Food Styling: The Art of Preparing Food for the Camera
This is my go-to resource, like a dictionary, for food styling. Whenever I'm going to be working with a tricky food, I pull out this book to find out, "What would Delores do?" She covers it all in very specific detail from the perspective of decades in the industry and with a mind for food science.
Another fan favorite of many photographers, chefs and bloggers filled with tips for making food look delicious for the camera as well as information about building a business as a food stylist.
Niches of Photography
Mastering Composition: The Definitive Guide for Photographers
A favorite from The Bite Shot Book Club series on YouTube. I love how this book lays out the theories of composition in an easy to understand way.
The Complete Guide to Close Up and Macro Photography
New macro lens? This guide will take you through all of the technical related to shooting subjects close up. Also another favorite from The Bite Shot Book Club series on YouTube.
Personal Growth
I have read this book multiple times over and get something new every time. This is a book that applies to not just business but life. I reference it frequently and am thankful for the wisdom the authors shared that shifted my perspective on the world.
Running in too many directions at once? Feel like you're always running but getting nowhere? This book helped me get serious about establishing laser focus and ignited a path to forward momentum by doing less, but better.
Habits are HUGE and this book gives some outstanding strategies for making better habits and breaking unhelpful ones.
It's hard to be a creative person. This book speaks to anyone who struggles with self doubt and creative blocks.
This one goes hand-in-hand with Art and Fear and tells the story of a creative journey with tips for survival.
A super quick read and a favorite of many creatives. If you're feeling stuck, this book can help catapult you into creative action.
We live in a world full of distractions. This is for anyone who struggles with focus and wants to explore the discipline (and magic) of deep work.
This book was recommended to me by tons of fellow creatives and was one that I wished I had read sooner. It's an easy enjoyable read that you'll connect with if you're on any sort of creative journey and putting your work into the world.
The Practice: Shipping Creative Work
I adore everything Seth Godin does, but this book especially resonates with those of us running creative businesses. I also recommend his Akimbo podcast and subscribing to his daily blog.
This book is geared toward writers, but I found it helpful for infusing meaningful stories into my marketing, content and food photography.
Business and Marketing
Storytelling is a powerful tool and this book shares seven universal elements of stories and how you can use them to improve the way you connect with clients and how to grow your business.
It sounds slimier than it is, I promise! This is a perennial favorite of mine for framing conversations with clients and creating situations that lead to increased sales.
Simon Sinek's Start with Why is a Favorite of many business owners but I think The Infinite Game reframed my thinking more.
You Can't Teach a Kid to Ride a Bike at a Seminar
In my past life in technology sales, I went through rigorous training in the Sandler Sales Method. These are tried and true principles of sales from a perspective that leads with value, human connection and solving clients problems.
Are you an introvert who needs better sales skills? This one's for you!
This one's on every business reading list, right? It's full of time-tested truths for leveling up in work and in life.
She Sells: The Empathy Advantage
Sales doesn't have to be slimy. Megan teaches from the perspective of a consumer portrait business but the foundational concepts and techniques she shares still apply to commercial food photography and clients.
I found this to be a helpful antidote to the omnipresent hustle-culture at the time of its release. It was a fresh perspective and welcome advise for those of us solo-preneurs and small business owners.
I love all of Dan Pink's books but this one is particularly helpful for anyone selling services, like food photography.
Cash flow can be a tricky thing to manage in a small business. This book shares a wonderful strategy and framework for keeping track of your cash, setting financial goals, and setting up your banking in a way that helps leverage your ability to generate profit.
Building a Food Photography Business?
Check out these other posts!
Photo Storage Solutions for Photographers
Types of Food Photography Clients